Echo Show Screen Protector Tempered Glass, Otium [2-Pack]
Product Information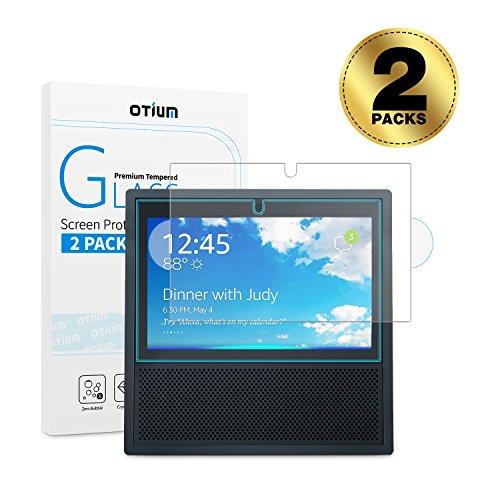 Clean and Smudge Resistant
When you cooking and reading recipes with Echo Show in you kitchen, reinforced oil-resistant additives guaranteed keep your Echo Show screen free from annoying smudges.
HD Clarity
This Echo Show Screen Protector made from 5- hours tempered glass that offers 99% transparency, giving you amazing image clarity that preserves every pixel.
Smooth, Precise Touch
Tempered glass screen protector for Echo Show feels like there's nothing between you and your Echo Show's screen so you can enjoy the smoothest feel and unmatched touch sensitivity. 
Otium Echo Show Tempered Glass Screen Protector
Made of high-quality Japanese tempered glass, Otium screen protector delivers maximum scratch protection while preserving crystal clear image resolution. In addition to unmatched protection, tempered glass protector maintains precise touchscreen sensitivity and features a unique oil-resistant coating so it's always a breeze to clean. And speaking of easy, applying Otium screen protector is as simple as aligning it, pressing it, and watching it magically do the rest. All in all, Otium is the clear choice in Echo Show screen protection.
Compatibility and Design
Compatible with Amazon Echo Show [2017]
In the box
2 x Otium Tempered Glass Screen Protector
2 x Alcohol Prep Pad
2 x Dust Removal Film
 2 x Microfiber Cloth
Installation Instruction
Warranty:
30-Day Money Back Guaranteed Lifetime Warranty
Warranty applies to the purchased product. Restrictions may apply.
Echo Show Screen Protector Tempered Glass, Otium [2-Pack] Tempered Glass Screen Protector for Echo Show 2017 – Easy Install Tabs/ Anti-Scratch / Ultra Clear / Bubble Free
Price: $29.99 (as of Dec 3rd, 2017 10:07 PM)

Features
Easy Accurate Application for Amazon Echo Show: With two handling tabs and self-applying glue, application is smooth, seamless, and accurate - every time. You just need to simply align it, press it and watch as Otium screen protector does the rest.
Flawless Clarity and Touch Sensitive: 99% transparency tempered glass preserves your Echo show's image quality for immaculate clarity. With its super thin design, the screen saver offers ultra touchscreen sensitivity.
Durable Scratch and Smudge Resistance: The best glass protector with 9H hardness delivers maximum scratch protection. A unique, durable smudge resistant coating stand for a bright, smudge-free screen HD for your Amazon Echo Show.
Edge-to-Edge Coverage: Laser-cut dimensions provide accurate sensor protection and fit your Amazon Echo screen perfectly- leaving no surface unprotected.fire
Package Includes and Warranty: 2x Otium tempered glass screen protector for Amazon Echo Show 2017, Easy installation user guide, 2x alcohol prep pad, 2x microfiber cloth, 2x dust removal film, 30 days no-questions-asked return policy,100% Risk-free, Lifetime Replacement Warranty.
Last Update: Dec 3rd, 2017 10:07 PM UTC